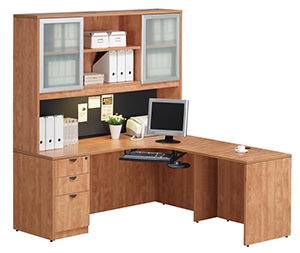 How a Desk with Keyboard Tray can Improve Productivity
Published February 11 2019
There are two ways to position a keyboard at a desk: on top of the desk or on a keyboard tray. There are many things to consider when deciding where your keyboard should go but let me tell you how using a desk with keyboard tray can boost your productivity.
Negatives of placing a keyboard on top of a desk
Firstly, if your work involves paper as well as computer work, a keyboard can get in your way, as can its wires and accompanying mouse and mouse mat. Secondly, if you place your keyboard directly on top of your desk, you're not able to adjust its height. Yes, you can probably adjust your chair height but this is less exact than being able to adjust the height and angle of your keyboard.
Benefits of using a keyboard tray
A desk with keyboard tray is often very adjustable. You can decide on the height and angle of the keyboard and tailor this to your own body size. This is really important for correct positioning and comfort when typing. Ideally, your elbows should be bent at an angle between 90 and 120 degrees. Also, your wrists should be in a natural position and not bent up or down. Shoulders should also be relaxed and comfortable and your arms should be hanging by the sides of your torso. A second benefit to using a desk with keyboard tray is that you are able to work in multiple media. Many roles require traditional paperwork as well as computer work. With a keyboard tray, you are quickly able to switch from one to the other without a lot of desk rearranging.
How does a desk with keyboard tray improve productivity?
First and foremost, we'll talk about comfort. If your hands, wrists, arms, and body are in the correct position you will be able to stay in that position and thus, work longer with fewer comfort breaks. Finally, with a keyboard tray, you are able to multitask and can quickly switch from one job to another. Being able to combine different ways of working will make you much more efficient and will, therefore, improve productivity.
Like this? Please share!
Related Articles
Desk Risers & Sit to Stand Desk Converters - Switching from sitting at a desk all day to to a sit and stand workstation or a desk with a sit stand desk converter is one of the best choices you ca...
Standing Desk Converter - A standing desk converter is the cheapest way to get yourself up and standing at work. These table top height adjustable mechanisms are portable and...
Creating Two or Four Person Workstation Pods with L Shaped Desks - For most people an L-Shaped Desk is an ideal amount of space for paperwork, monitors, a laptop and other desk accessories. Because of this businesses ...