Here we have two U shaped desks with peninsulas in a Cherry finish that are manufactured by Express Office Furniture. Each are similar in size but one offers more storage than the other with modular pieces which include a hutch and bookcase.
---
As an example to how you can modify these to create the perfect desk space the following desk is manufactured by the same company with a relatively similar setup but in a Dark Walnut finish with a curved cockpit, paper flows, a wardrobe storage cabinet and nice frosted glass accent doors.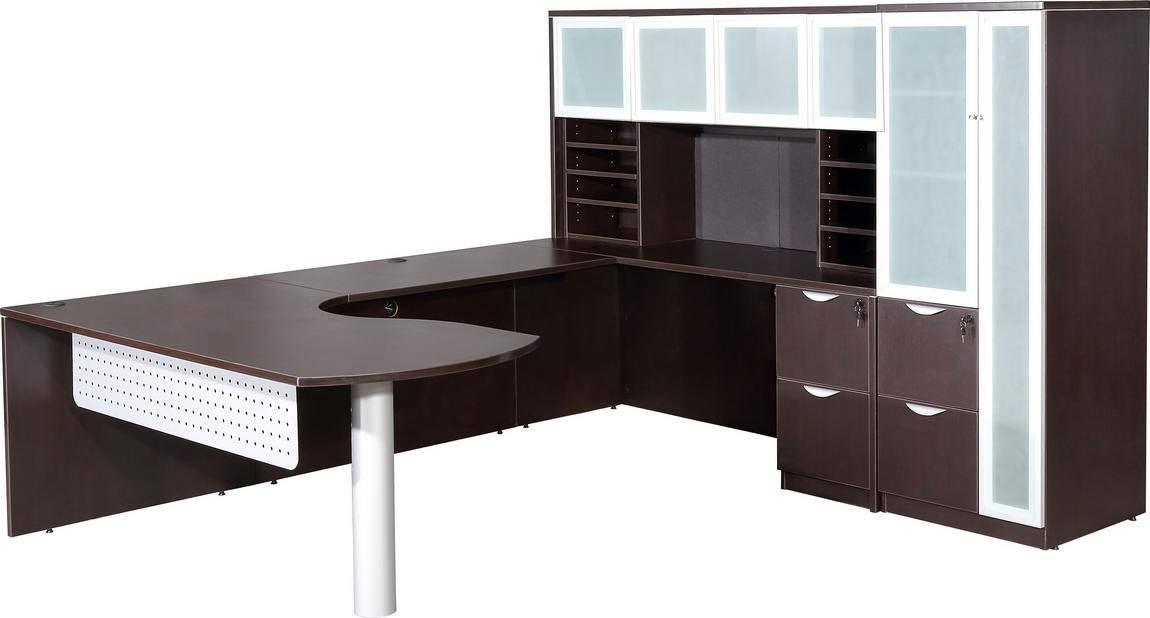 ---
Lastly in our comparison is a full executive desk set from Harmony Collection that showcases the curved corner peninsula with a full laminate modesty panel and black leg. This desk is in a Modern Walnut finish and includes a large combo storage cabinet under a credenza desk shell, lateral file and two hutches both with frosted glass doors.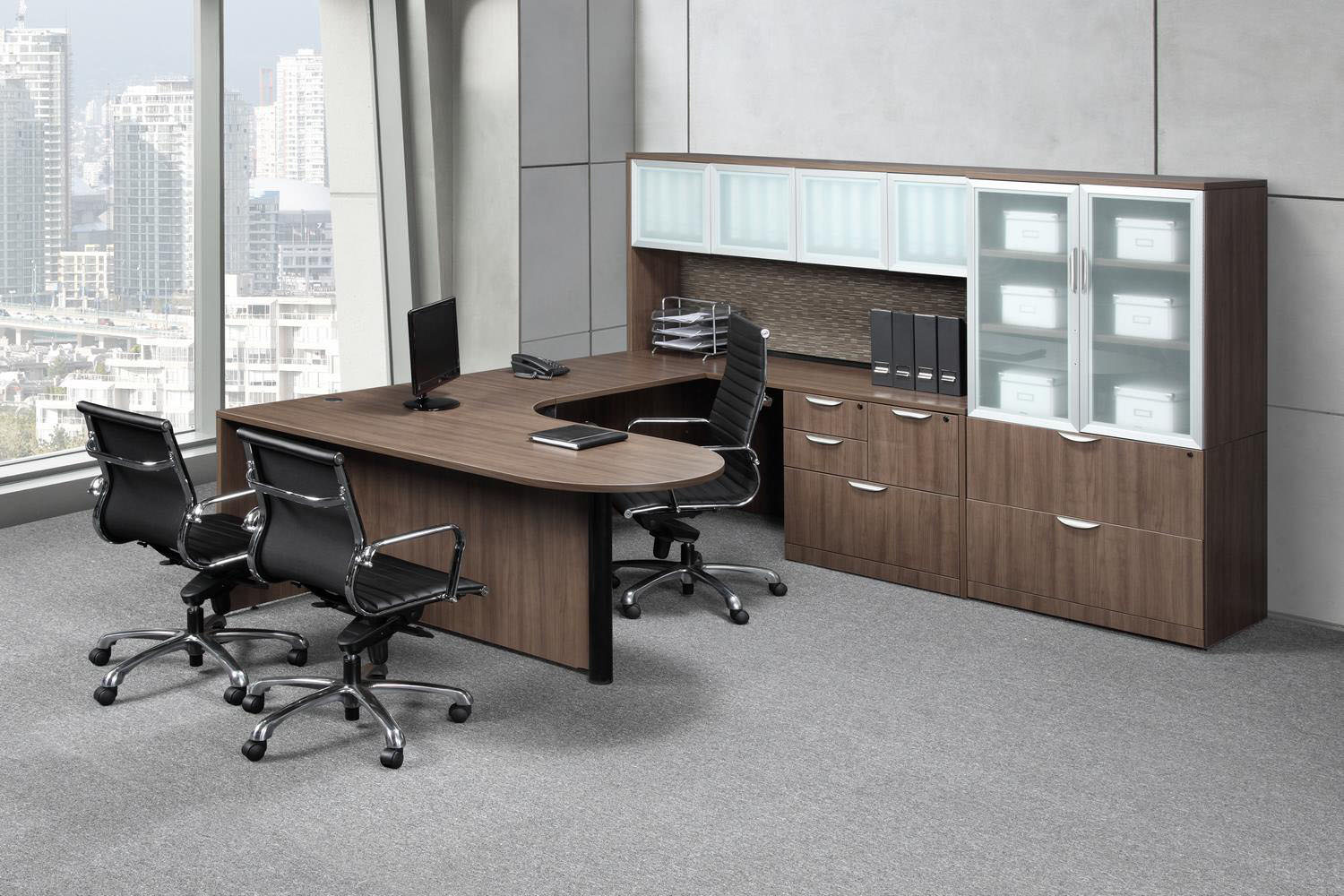 ---
Another creative use of office furniture is this large modular double peninsula desk for two people. Between to the two work spaces is a shared workspace for meeting and discussion about any collaborative projects that the team is working on. The privacy panels mounted on the desks work as an accent piece and in a large office environment where many workstations or desk pods are installed, these can act as a sound barrier between the desks with a similar affect to cubicles but a more attractive open option.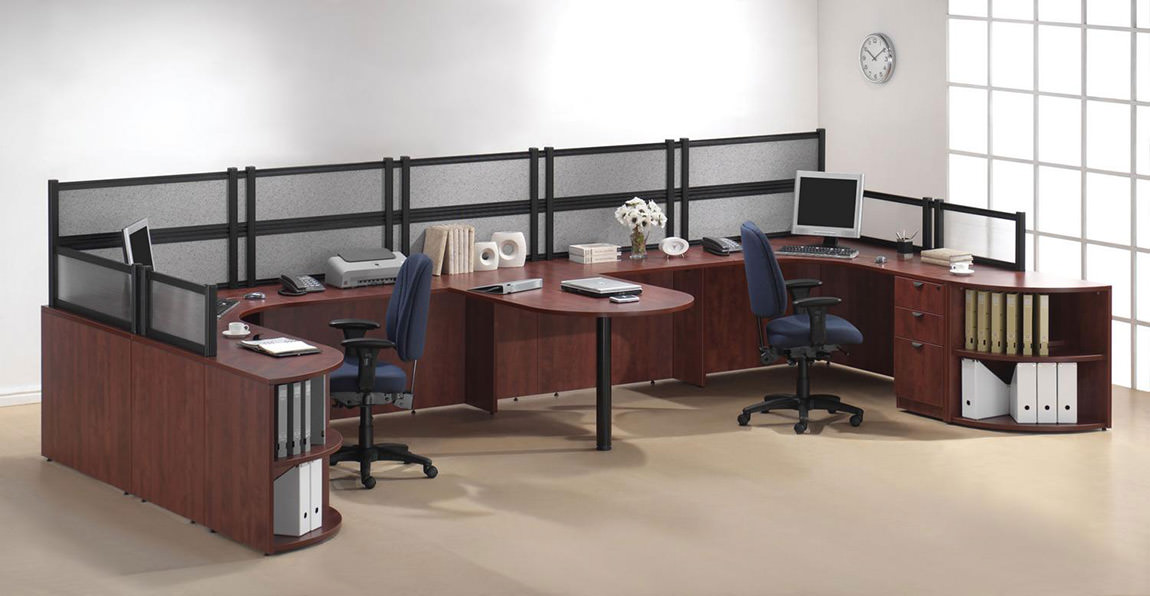 ---
If you need a smaller desk and don't want to use a hutch a good option is to replace it with a storage cabinet wall unit. These match the desks perfectly but do not take up any space on the desk or cast any shadows providing more ambient light in the work space.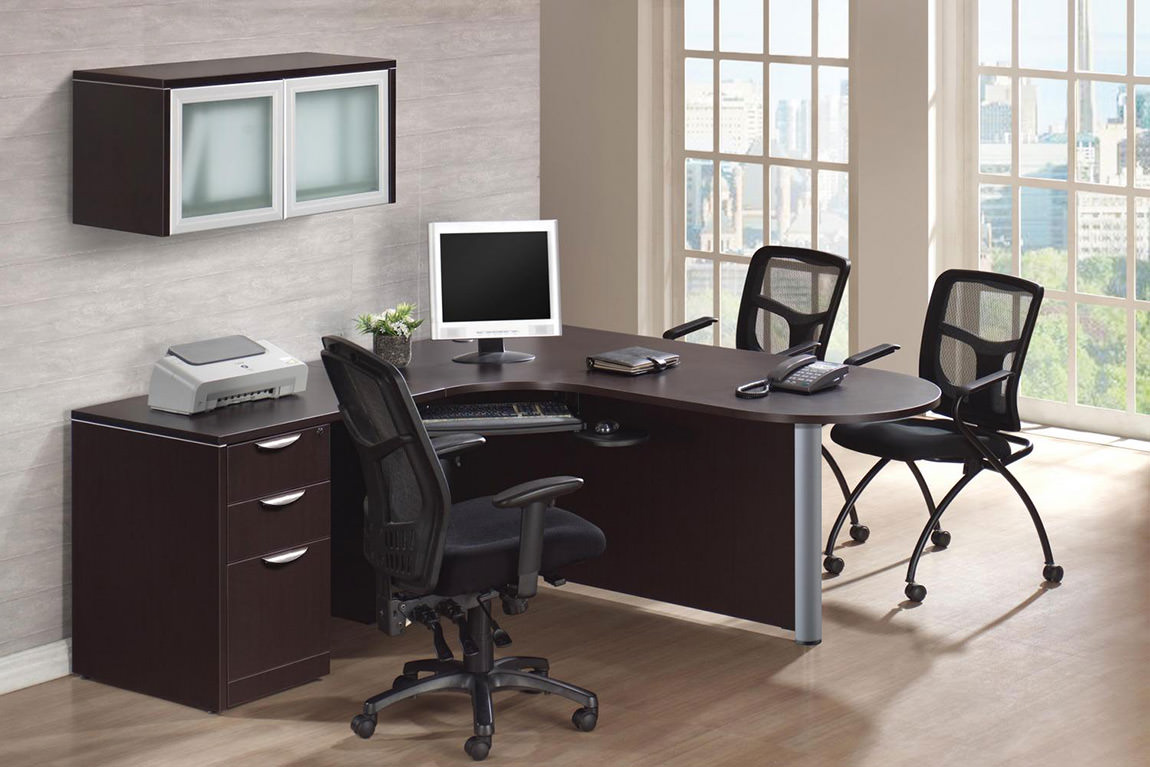 ---
For a very basic desk setup with a meeting space this L shaped peninsula desk offers simplicity and storage at a very affordable price. It can be purchased in numerous finish options.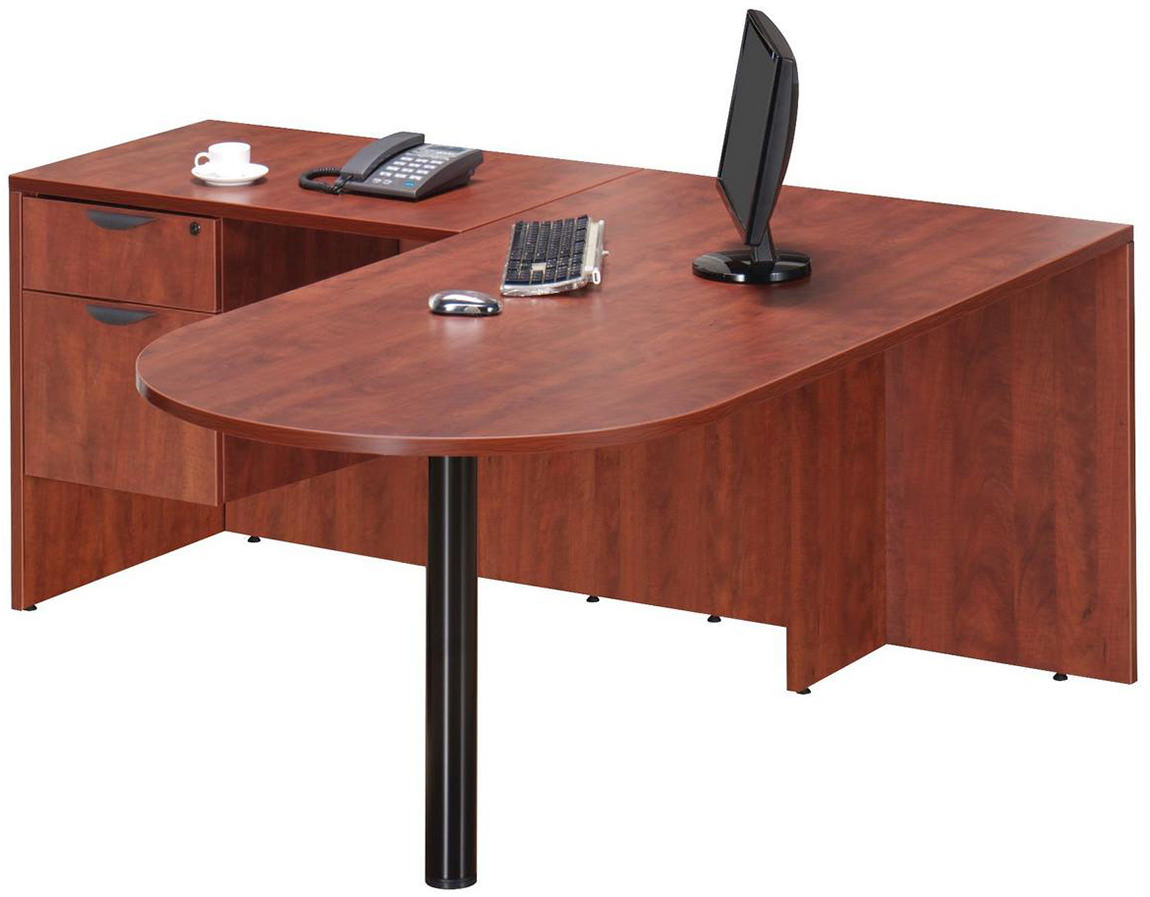 ---
That does it for our round up of peninsula office desks. These can all be purchased with the finish, size variation and matching office furniture to complete your desk space. There are no delays when making modifications to the desk setup as most pieces are in stock and ready to ship out the same or next business day.
Whether you are looking for a single desk, a two person workstation or a pod of 4 or more desks, these peninsula desks are perfect for creating working environments that not only offer ample storage and desktop space but also a place to casually meet.
Did we mention the durability of these desks? You can buy them without any concern as they will far outlast anything you can buy at big box stores and even include a 5 year manufacturers warranty to back that up. That's right, they will look as new as they day you bought it for years to come, every time you clean off your desk it is like walking into a brand new desk set. They naturally resist scratches, dents and dings so you can resist easy that when you buy any of these desks, you are making a sound investment.
Peninsula desks not only provide a space for meeting but can work to increase the amount of desk space you have. This increases the amount of paperwork you can have out on your desk or even other electronics along side your computer like a laptop, printer, scanner, monitors and other peripherals that you might use on a daily basis.
Given that the desks are fully customizable, you can have a bridge in a U shape in a number of different lengths and these look great in a home office where it provides an open layout and are also great in management offices in businesses.
In most cases we can have these desks shipped to your door in as little as 3-5 days! Whatever your desk and office furniture needs, we welcome you to give us a call at (608) 831-1012 so we can work with you to create the perfect desk set for your office space.
Like this? Please share!
Related Articles
Desk Risers & Sit to Stand Desk Converters - Switching from sitting at a desk all day to to a sit and stand workstation or a desk with a sit stand desk converter is one of the best choices you ca...
Standing Desk Converter - A standing desk converter is the cheapest way to get yourself up and standing at work. These table top height adjustable mechanisms are portable and...
Cocobolo Desk - The cocobolo desk is a desk made from cocobolo wood that is a particularly hard wood that comes from a slow growing tree. The slow growth makes wood...
Related Products