---
Adjustable Height Desks
An adjustable height desk is height adjustable, meaning, you can sit or stand at your desk at your leisure. These types of desks can improve productivity and can be installed as a modular piece into a matching L shape or U shape desk, or be used as a stand alone piece in your office as your main workspace. These are perfect for a home office or in businesses and help you to work at your desk longer, with improved posture and comfort.
---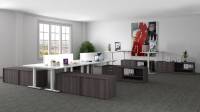 6 Person Electric Height Adjustable Desk Workstation


Price:

$9,900.00

Condition: New

The 6 Person Electric Height Adjustable Workstation by Harmony Collection promotes a healthier and more efficient workplace by allowing you to stand anytime during your workday. Each workstation includes a white standing desk and has plenty of side sto...


---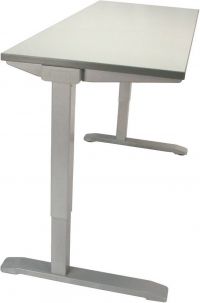 Electric Adjustable Height Desk


Price:

$750.00

Condition: New

The electric adjustable height desk from Express Office Furniture features a dual motor design and up to 4 programmable height adjustment presets as well as standard up and down functions with the press of a button. Available in a number of different s...


---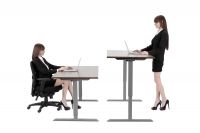 Electric Height Adjustable Desk


Price:

$750.00

Condition: New

The electric height adjustable desk by Harmony features memory preset for up to 4 different height settings, manual up and down adjusting, laminate desktop and metal height adjusting legs. This desk can be purchased in a number of different desktop siz...


---
Purchasing an Adjustable Height Desk
The purchasing process of the desk couldn't be much easier. Just let us know what size desktop you need and in what finish and we can get you setup with a high quality desk that will last years to come. Typically, these ship out in as little as 3-5 business days and can be purchased with matching furniture including a credenza, filing cabinets and other accessories.