Benefits of Buying Used
There are numerous benefits of buying used furniture. This includes repurposing and keeping otherwise perfectly functioning furniture out of the landfill, affording you the opportunity to save money, allowing you to stretch your dollar further and to help you get great deals as well as affording you the opportunity to take those items home the same day. Buying used doesn't have to mean you're buying a low quality, many of the desks and cabinets that we sell are barely used and a fraction of the cost of new!
Availability and Features
The used office furniture we stock comes in a number of different colors, materials, have any number and combinations of features and name brands. Inventory is generally acquired through liquidations of local businesses or patrons who trade in or donate desks they otherwise have no way of getting rid of. The value of these items are greatly dictated by market conditions and the time of year.
Colors we typically see include black, white, gray, cherry, mahogany, walnut, honey and silver. Materials include wood, laminate, veneer, glass and metal. While features such as locking mechanisms, rolling and other adjustments are strongly dependent on the make, model and quality of the goods. Brands we frequently have in stock include Offices To Go, Kimball, Herman Miller, Hon, Knoll, AllSteel, Teknion, Haworth, Ikea, Steelcase, National and more.
Second Hand Office Furniture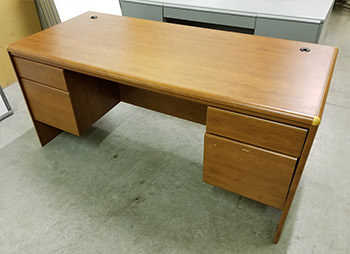 We have a lot of different types of used office furniture and equipment that make their way into our facility. In all cases, it is best to visit our warehouse in person to view these items. Only 30-40% of the items that receive and sell are listed online. Because of that, it is always good to call or stop by our warehouse in person to browse our current inventory.
Desks - Used desks come in all different shapes and sizes. We frequently have in stock laminate, metal and veneer desks that are either Straight, L Shaped or U Shaped. Often these office desks and workstations have matching credenzas, hutches, locking drawers, keyboard trays, and even glass doors.
Chairs - Our selection of gently used chairs is constantly changing. We frequently have in stock mesh office chairs, task chairs, guest chairs, side chairs, rolling office chairs, kitchen chairs, stools, benches and waiting room seating.
Storage - We always have a large selection of used filing cabinets, storage cabinets, credenzas, bookshelves and lockers in stock. These are generally manufactured with either metal or laminate materials. The bookshelves we carry range from high end commercial shelving or racking to a common laminate bookshelf that could be used in a home or small office. Vertical, lateral and fireproof file cabinets as well as credenzas come in a large range of sizes, brands and conditions. We most commonly stock these items in excellent or like new condition and like to provide lock and key whenever possible. In these cases it is common to see 2, 3, 4, or 5 drawer or shelf units.
Tables - We have in stock many types of conference, boardroom, nesting, folding, meeting and training tables. Our selection of used tables changes frequently and to get the best deals you can call or visit us in person to view our current selection.
Cubicles - Our selection of cubicles is constantly changing and in some cases, we part out cubicle sets in order to find a home for all of the panels, desktops and filing cabinets we receive. Cubicle partition panels can be used as divider walls to separate workspaces or rooms. In most cases our selection of cubicles will be viewable online and if parts are needed from any line of cubicles, you can check to see if it is something we can part out for you.
Reception and Waiting Room Area - For the reception and waiting room area we stock sofas, coffee tables, side tables, end tables, benches, matching chair sets and receptionist desks with transaction counters that you can use to make a nice presentable space for people who visit your business.
IT Equipment & Electronics - We frequently liquidate businesses who no longer have a need for their IT equipment. This can include computers, monitors, laptops, servers, power supplies, battery backups, keyboards, mice, printers, copiers, scanners, fax machines, phone systems, projectors network routers, server racks and other essentials for running a business.
Office Supplies - Small office supplies can be purchased from our facility after liquidations occur. This might include pens and pencils, hanging file folders, binders, notepads, mail sorters, whiteboards, bulletin peg boards and other items. In most cases these are priced at 10-50% of what you would pay for them retail as we are usually looking to relocate these items as quickly as possible.
Appliances - We infrequently receive large appliances including refrigerators, stoves or ranges, microwaves, and dishwashers. In the event that we do receive them, they are usually posted online quickly and generally are relocated in a matter of just a few days. We accept working appliances as donations and can generally remove these items without a fee.
Décor - We frequently have office décor items including artificial or fake plants and trees, clocks, lamps and lighting from liquidations we conduct locally. These items can be found around our showroom and in most cases can be bought and taken home the same day.
Used Office Furniture Equipment Liquidators
We are buyers, sellers and liquidators of used office furniture and equipment. Items we liquidate are generally resold in our facility or online and delivered directly to our customers. In general we deliver to customers near Madison Wisconsin however also make deliveries to cities including Milwaukee, Appleton, Green Bay, Janesville, Chicago, as well as in the states of Minnesota, Iowa and Illinois where possible.
The value of used office furniture varies greatly depending on market conditions and the need or urgency to have the furniture relocated. In the event of a full office liquidation we generally make an assessment of these conditions and purchase, place on consignment, charge for removal or receive as a donation the furniture where the cost to move the furniture offsets the value. Disposing of the goods into the landfill is generally a last resort which we do our best to avoid.
How to Buy
You can purchase furniture from us by browsing our site and calling us at (608) 831-1012 to let us know what you need. In many cases, you order can be placed over the phone and items shipped directly to you. In other cases, you can visit our facility, browse goods we have in stock and take home the items on your own or have them delivered at your convenience.