---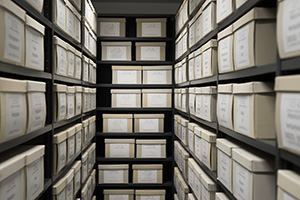 Document Storage
At Madison Liquidators we understand the in's and out's of business, and one of those is secure document storage. As your business grows your needs to secure documents and paper files will likely increase. In many cases, these documents are rarely accessed but you are required to retain those paper files which could include medical records, financial records or legal records.
Our records storage facility offers a climate controlled location with the highest level of security possible which includes Video Surveillance and additional security throughout our building(s) to insure your documents remain safe and secure.
Our rates are extremely competitive and offer you reduced risk of loss where records may be stored in location that is simply tucked out of the way rather stored and monitored. Fireproof document storage is available for an additional cost which can reduce the possibility of loss due to fire, impact and water.
The process of storing your documents is simple and the contract terms are on a month to month basis, giving you the opportunity to add and remove documents at your leisure. From start to finish, which may include boxing, moving and storing your files, we can handle the project and provide you with added piece of mind knowing that your documents are as secure as possible.
For more information call(608) 831-1012.